Whilst attending the unveiling of the Gulf War Memorial in 2016 for which Rachel embroidered the shroud that was used to cover it and which was later auctioned to raise well over £1000, the idea of a memorial to The 14th/20th King's Hussars was born.
There, began the hard slog to erect a memorial befitting the Regiment, that would be the perfect representation for years to come.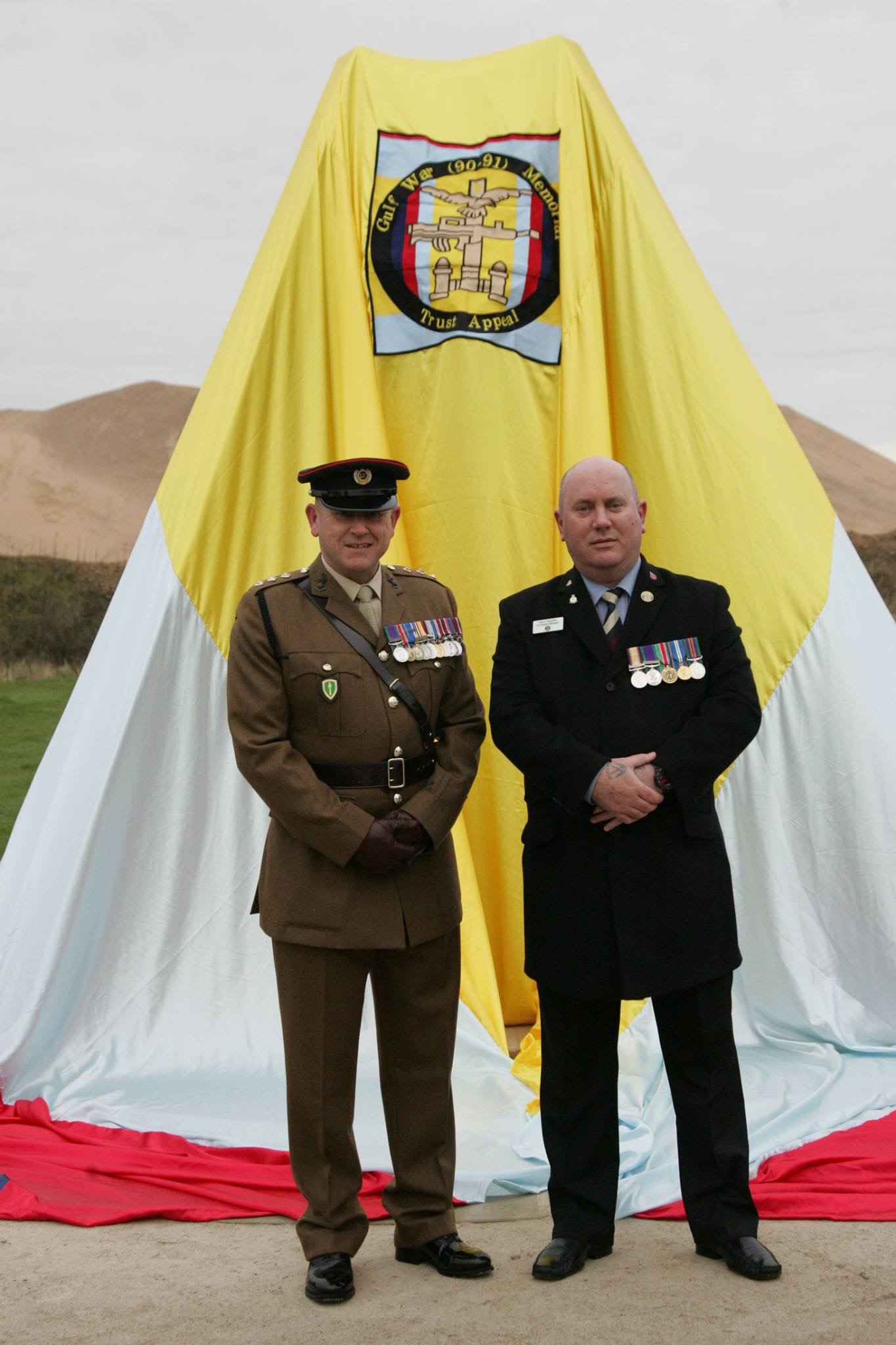 We discussed the idea with Gen Sir Richard Sheriff, the then Colonel of the Regiment. The initial designs were refused by the NMA officials as they were too flamboyant and would not compliment the other Cavalry monuments in the crescent, but with some help from Peter Orgil who was Head of Estates we were able to produce a fantastic design. Peter has since retired, but before he did he sent us a wonderful email expressing his delight at working with us, how taken he was with our passion and how he wished us every success with our venture.
We approached a number of companies for 'all-in' quotes, the cheapest of which was £38,000 and most expensive almost £52,000. We soon realised that in order to achieve our dream we were going to have to work much harder, break the venture down into components and project manage ourselves. By doing this we were able to shave the cost down to a realistic goal.
We began by sourcing materials from different countries and contacting stone masons, granite suppliers, logistics companies and construction companies. By doing the design and plans ourselves saved almost £1,000. Calling in favours helped too, but we are still willing to accept any offers from individuals or companies who may have a service to offer that could further reduce costs
After almost a year of work we shaved the total build, installation and administration costs to just under £20,000, a saving of £18,000 on our lowest quote. So for a short time we were excited to be underway with a very achievable target figure.
Due to some major changes in policy at the NMA we received a phone call. We were advised that all applications were to be suspended as large scale remedial work was required, however along with a small number of other applicants we had been granted permission to continue because we had shown such commitment and enthusiasm and as long as we could guarantee to meet our deadline we were to be excluded from the order.
Unfortunately for us one of the new changes in policy was that a large sum of money had to be deposited for maintenance of the memorial for many years to come and this sum was estimated to be around of £7,000. Negotiations have reduced this sum to somewhere in the region of £5,000.
This means that our new target is £25,000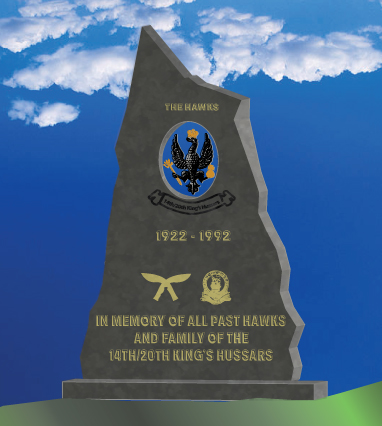 The Regiment was formed in 1922 following the amalgamation of the 14th and XXth. October 2022 will see the centenary anniversary of that bond and a truly fitting time to unveil our testament. So a deadline was set and one that we feel is very achievable.
We didn't advertise our idea until November 2018, some two years after conception. It was an accident that forced us to 'let the cat out of the bag'.
Darren was invited to play the Last Post at the England v New Zealand rugby match, [listen to it here on the BBC] in front of a capacity crowd of over 37,000 and a wider TV audience of millions Following the game Rachel and Danny Dance – the President of Pudsey RBL were allowed onto the pitch and took a regimental flag around to have it signed by the players.
We decided to auction the flag on eBay and stated that anything raised would go towards ' the monument' fund . News of the auction spread and people began asking questions about 'the monument' and we had to reveal our plans.
From that point on, our fundraising began in earnest.
During the last two years we have used a number of methods to raise money, including concerts, craft fairs, auctions and sales of jewellery and models. An Armed forces day extravaganza with 40 bands performing over the weekend and so much more.
Why not click through the rest of the website and aquatint yourself with our aims and progress.
Don't forget to bookmark us: there's a button at the top.