August 2022
WE'VE MADE TARGET!!!!!
We are so pleased to announce that we have reached our target. Our plot and maintenance fee have been paid and we have an unveiling date of 3rd October.
Watch Facebook for more details.
July 2022
We've had a great month in The LIttle Shop of Treasures, some nice pieces sold including a couple of 'bugs' and we've raised over £400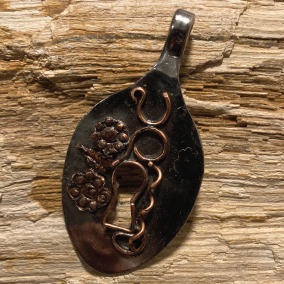 June 2022
Our third cancelled concert and unfortunately this one was so close, unfortunately we just didn't get the ticket sales and couldn't risk having to pay for the venue. We are close to target. If anyone is able to help with a fundraiser we would be so so grateful.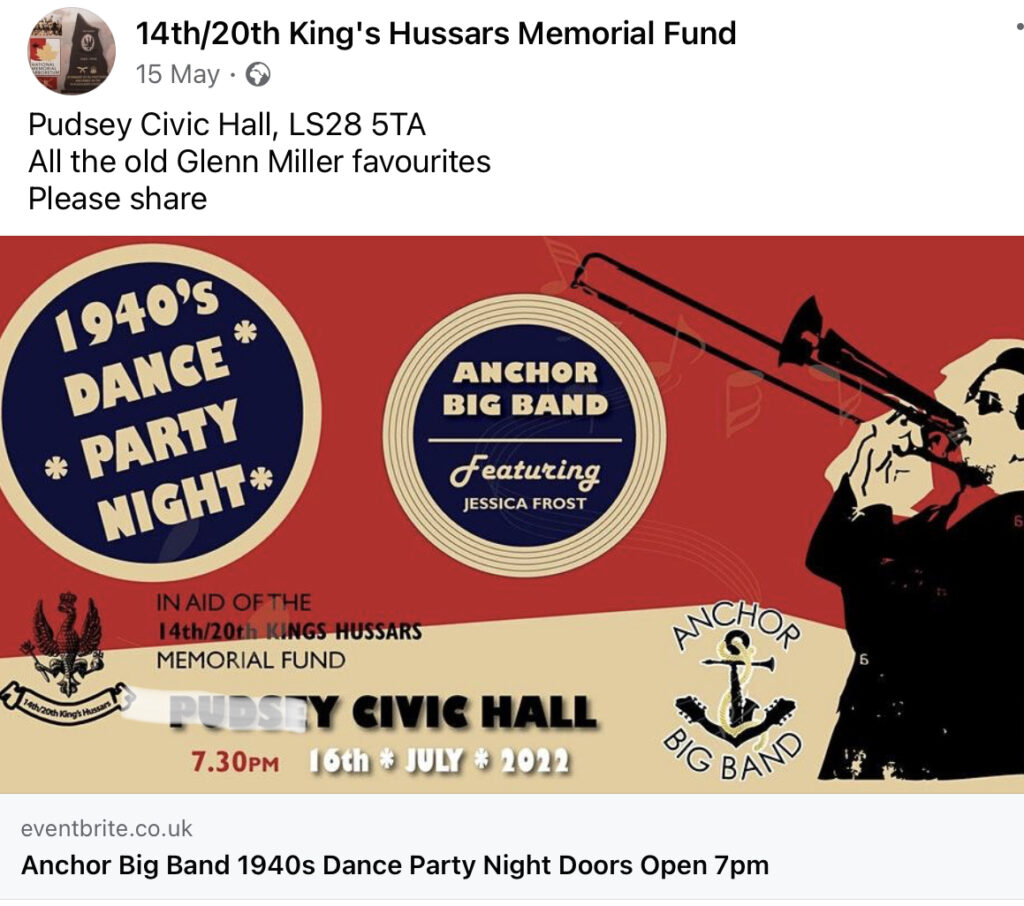 May 2022
Well done and a HUGE thank you to Mik Goodwill who rode 500 mile across two borders, two coasts half iron butt challenge completed in 10 hours 55 minutes. A fantastic achievement to raise money for our memorial.  We are truly grateful 🙏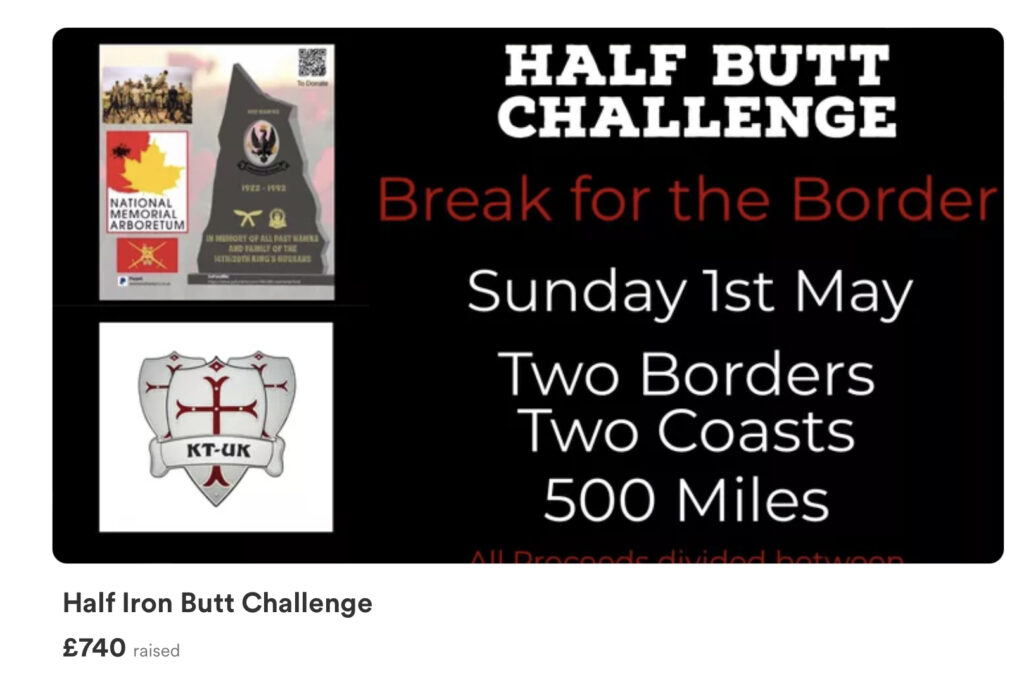 December 2021
The last couple of months Rachel and I have been out in the cold doing some busking and where allowed playing in retirement homes collecting. People are a little conservative with their cash, but we are building the pot slowly and having to be a little more inventive.
We had to play outside Morrisons this year as they wouldn't allow us inside due to covid restrictions. I wish I'd taken a coat!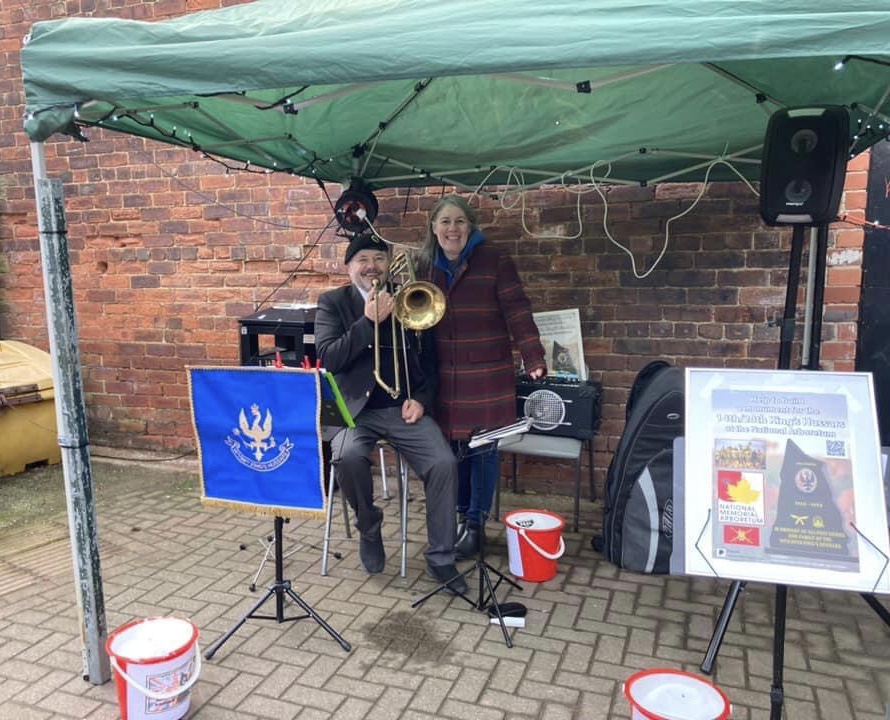 November 2021
We took to Blackpool despite the weather warnings to stay at home on another Fundraiser at Neil and Debbie Winkleys Guest House. Covid and the storm made some stay away, but Neils persistence paid off and we raised almost £700. A huge thanks to North Pennine Brass for their help. We didnt manage to get as many of the old regiment here this time. Thanks also to Steve Jackson for jumping in literally at the last minute.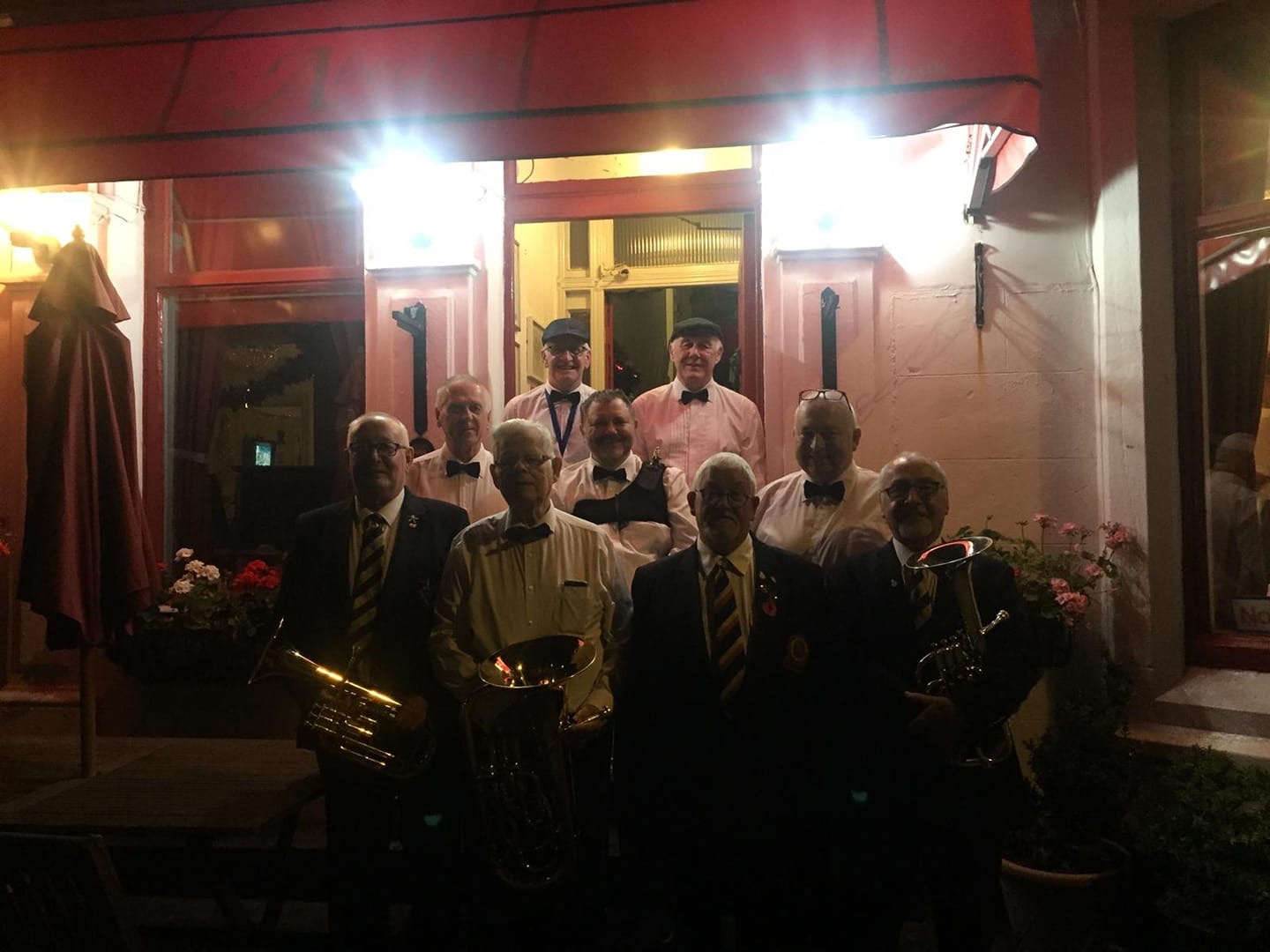 September 2021
We have had some terrific statues made, which are customised with a name plaque and have the beret with a regimental cap badge. We may extend to include affiliated cap badges. Its a very limited run so do get in touch if you want one.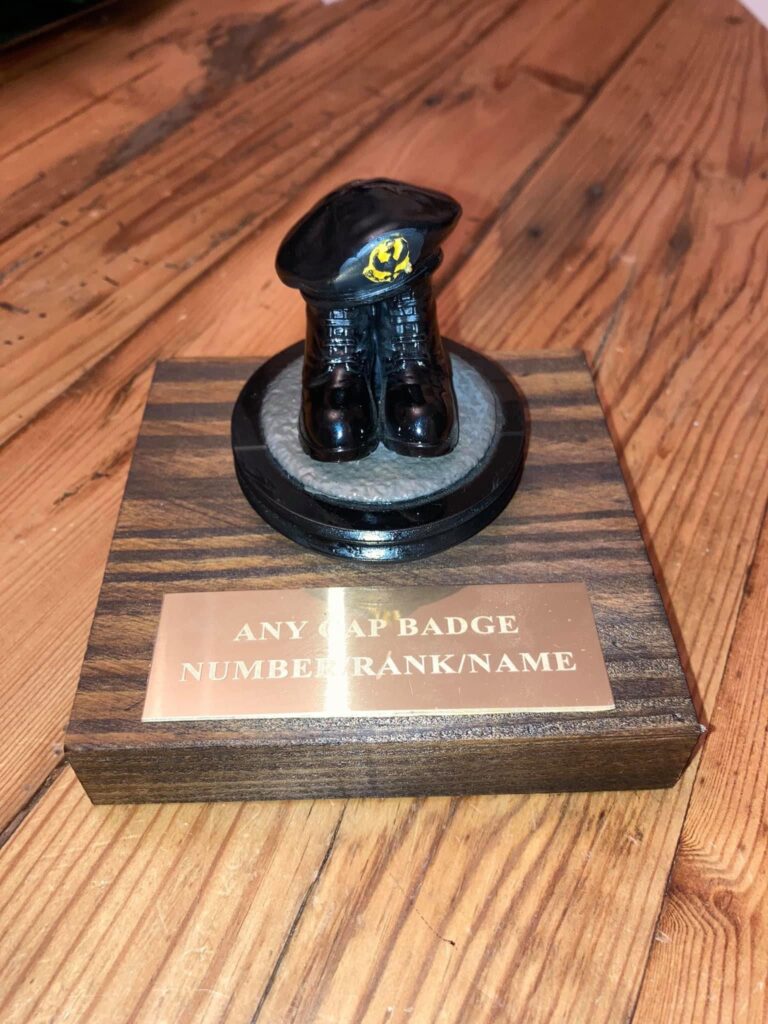 April 2021
The second batch of silver has been returned from the assay office and already most items have been sold. We have two more batches left so don't miss out as they will not be repeated.
We are nearing our original target of £20,000, as we write we are just £550 short. Due to changes at the NMA we now have to raise the 20 year maintenance fee in advance as a number of organisations have not been meeting their commitments. This fee is likely to be in the region of £5000. We will find out the exact amount next month.
Trevor Maxfield donated a batch of memorial badges that we intend to sell.
Now that the COVID restrictions are being eased the ex band members are planning a performance in Blackpool in November. The gig will be a fundraiser hosted by the Freemasons and ex Band Member Neil Winkley and his wife. Our Bandmaster for the night will be Paul Krywyszyn who's band has volunteered 15 musicians to come down from the North East to help us out. Our Oldest Band Member Donald Bateman has already reserved his room and chair on euphonium.

March 2021
This month we have been concentrating on the new Sterling silver jewellery items. These include two types of cufflinks, a tie pin and possibly a ladies ring. The quality is excellent and they are all limited edition.

February 2021
We ran a sale with some of our stock that we were able to re-badge which brought in over £200. Various donations and website sales and we are ending February with £14,634.79 . Over £500 raised in 2 months. Hopefully we have an event organised in November. This will be a volunteer band to host a concert in Blackpool. The same event two years ago raised £800 so we can hopefully beat that in 2021. Details will be published shortly
December 2020
Unfortunately COVID has hampered our fundraising this year, but we still managed to raise over £4000. We close the year with £14127.10 in the bank with a couple of fundraisers still running so hope to put another £120 in the bank in January.
Thank you to all those who have supported us this year. We wish you all a Happy Christmas and New Year.
Lets hope that we can continue in the same way next year.
The Memorial team
June 2020
We have raised a few pounds for the fund this year by selling a few hand 'pierced' coins, shaped into the capbadges of the regiment and done on coins from the era.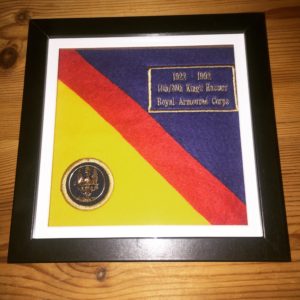 By the end of January thanks to some Christmas sales we broke the £10,000 mark. Darren has continued to make and sell a few models and pieces of jewellery that he makes and brought in a few hundred pounds.
We are going to auction a few pieces during the next few months to see if we are able to rescue the end of the year.
Think regimental we have some top quality, expertly embroidered clothing for you to buy this Christmas. Remember it is all in aid of the memorial.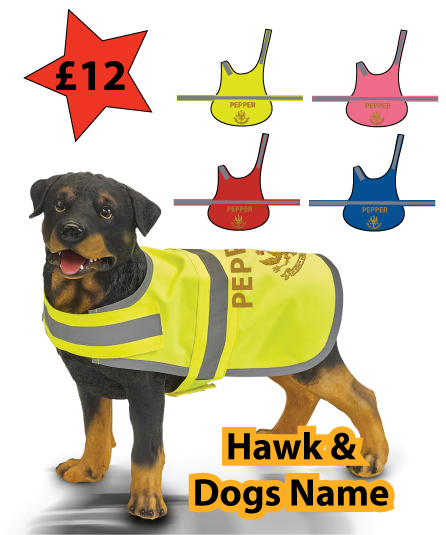 FRAME 'em YOURSELF
A sale of some A3 embroidered panels brought in some welcome cash in December 2020. The panels had been made to be framed and sold as complete mounts, but our rather heavy handed posties were slowly putting us out of business having to replace frame after frame. We changed tack and offered them as Frame it yourself.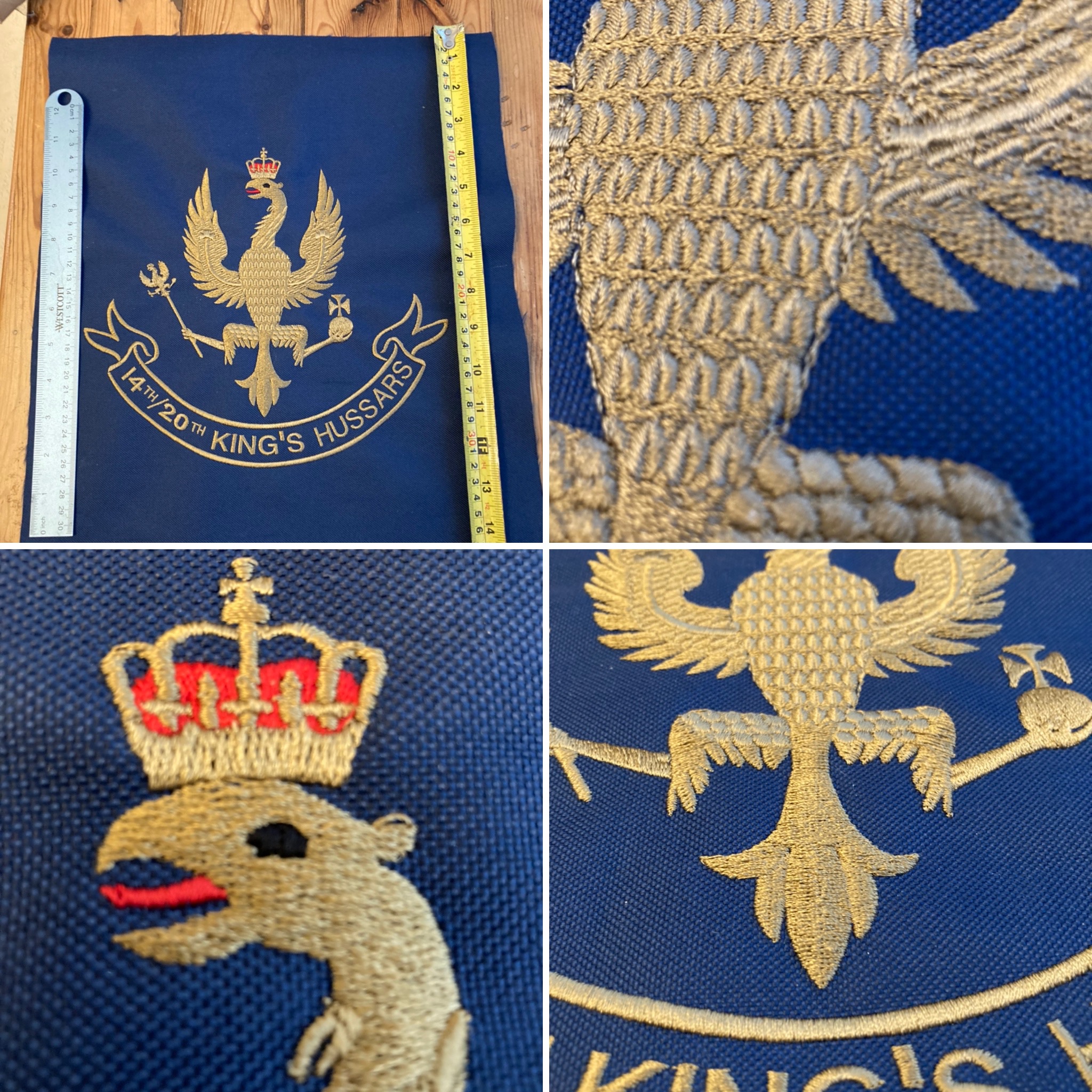 We still have a couple left at £13 and free P&P.
Drop us a message on the contact page.

BUSKING
Having raised almost £1000 busking last year from 4 sessions we were hoping to double that this year as we had 9 sessions booked in supermarkets and festive markets but alas all have been cancelled

ONLINE SHOP
Click here to see what's on offer, we have lots of badged items and we are able to change the badge should you have a requirement.
Jan 2021- updates on the Memorial Facebook page
We have added a few more items in the shop so do take a look.