We are always looking for innovative ways to raise money.
Darren and Rachel have donated lots of jewellery and models which are being sold on Facebook whist the Fobs n Cogs online shop is being finalised.
Commissions are welcome so please do make contact for that gift that is very 'different to the norm'. The models and jewellery are made from mainly watch and clock parts, spoons & forks and old coins. Darren specialises in 'mechanising' beetles, bugs and arachnids. Having both trained at Leeds Jewellery school Darren & Rachel also work in gold, silver and copper.
This is just a very small selection of the items available
We have also raised quite a few pounds for the fund this year by selling unique hand 'pierced' coins, shaped into the cap badges of the regiment on coins from the era.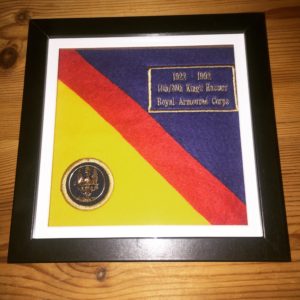 We are able to create a pendant or keyring, chain or ring on coins of almost any year DO get in touch if you would like something specific.
Brand new: Hawk cufflinks.
Hawk Cuff links are now available for sale. Astonishing detail in .925 Sterling silver. Two options are available a standard rocker type or a chain and bar. This is a very limited edition run with a maximum 20 sets.
We have lots of badges items available in our shop, just click here-. Have a look and do ask if you would like something adding, changing or appending. Often there is no additional charge.